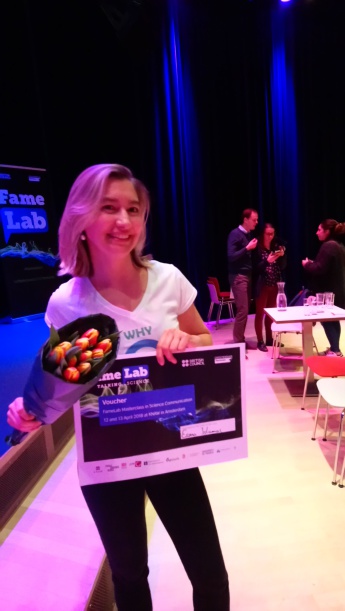 On Tuesday evening April 3th , our colleague PhD student Esma Islamaj won the regional round of FameLab Delft! A competition in which young researchers are pitching a scientific concept in 3 minutes. Our enthusiastic Esma had worked hard to explain diplopia to her audience. With the help of two foam eyes, her hilarious word jokes and her energetic perseverance, she managed to keep the eyes of the audience and the jury fully focused on her story. The jury was very pleased with the way she involved the audience, and complimented her for the smart eye-catching t-shirt in theme ('why Eye see you twice')! And so of course, our Esma was the rightful winner!
Her research is focused on glaucoma and is part of the TopZorg project. She studies the side effects of a Baerveldt implant on the corneal endothelial cell layer and the effects of the implant on the eye positions, including diplopia.
On  May 9th, Esma will pitch again and compete with the other winners of the regional rounds in the national competition of FameLab. The winners of all 25 participating countries will then compete for the title of FameLab International Champion at the Cheltenham Science Festival (June 5 - June 10, 2018)!
Good luck Esma!